Lil Kim Playfully Surprises Fans at ONE Musicfest with Panties Toss
Lil Kim added a cheeky surprise for her fans during her performance at ONE Musicfest in Atlanta on Saturday (October 28) by tossing her panties into the crowd.
The legendary rapper, hailing from Brooklyn, brought an element of playful tease to her set when she inquired, "What do I got for y'all next?" and promptly declared, "Panties coming down."
Reactions to her stagecraft were mixed, as fans had varying opinions about the unexpected gesture. However, Lil Kim is no stranger to scrutiny, having faced numerous challenges and lived a colorful life throughout her long and illustrious career. She's set to share her life's story in an upcoming memoir.
In late July, Lil Kim shared a photo of the manuscript of her forthcoming memoir, "The Queen Bee," and announced that it had been delivered to the publisher. The memoir, co-written with music journalist Kathy Iandoli, will delve into Kim's experiences, including her complex high-profile relationships, her fight against misogyny in the music industry through promoting sexual positivity, the double standards of self-image and beauty in the spotlight, and the significant act of loyalty that led to her incarceration.
Lil Kim boasts a legion of fans, some of whom are prominent figures in the music industry. In a tribute to the Queen Bee, GloRilla recreated her iconic bikini-clad squat pose ahead of her birthday in July, which received a warm response from Lil Kim herself.
The iconic pose was originally featured in a promotional poster for Lil Kim's debut album, "Hard Core," released in 1996. Since then, numerous female rappers, including Nicki Minaj, Cardi B, Coi Leray, and DreamDoll, have drawn inspiration from Lil Kim's trailblazing style.
DreamDoll, for instance, paid homage to Lil Kim by wearing a revealing one-sleeved jumpsuit and nipple cover similar to the outfit Lil Kim wore at the 1999 MTV Music Awards during her performance at Hot 97's Summer Jam in 2022.
Omusawo Tintah To Host Renowned Swiss Artist Mr. Kamanzi on Metro fm 90.8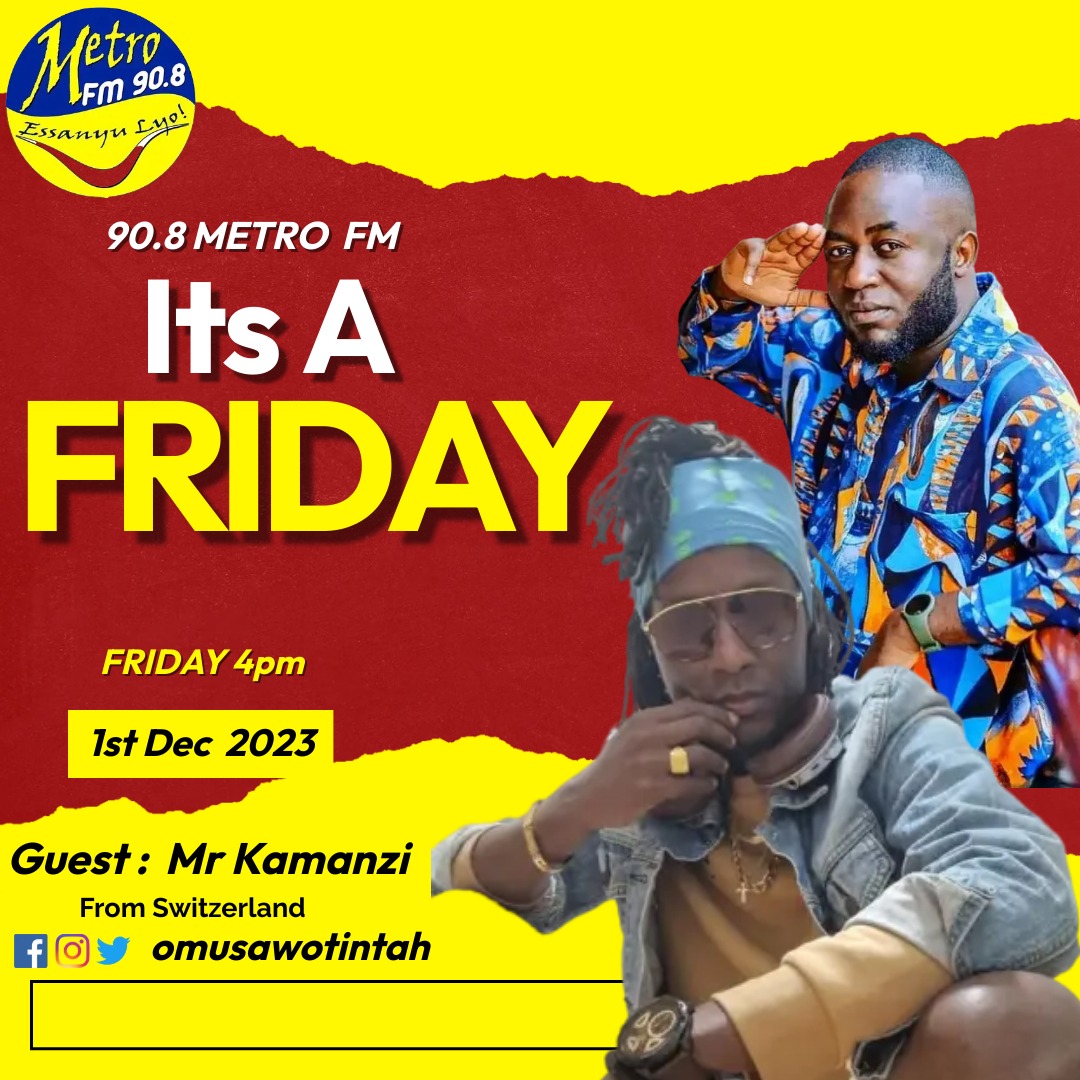 Metro FM 90.8's celebrated radio presenter and media activist, Omusawo Tintah, is gearing up to host the sensational Switzerland-based singer, Mr. Kamanzi, this Friday on his renowned radio show, Free Style Friday, running from 4 pm to 7 pm.
Omusawo Tintah's Free Style Friday has become a staple for music enthusiasts, featuring top-notch music and hosting internationally acclaimed artists. The show's popularity has soared, making it one of Uganda's most loved and trending radio programs.
Mr. Kamanzi, who is set to be the special guest on this week's episode, brings a wealth of musical talent and a captivating story to share. His journey in the world of music began at the age of 12, fueled by a deep passion for the art form. One of his childhood dreams was to perform on the grand stage, a dream that materialized in 1995 and marked the commencement of his music career.
Known for his distinctive vocal style, often referred to as "the husky voice of Africa," Mr. Kamanzi migrated to Switzerland a few years later. In 2008, he had the privilege of sharing the stage with T.o.k and Sean Paul in Dar es Salaam, Tanzania, a significant milestone in his musical journey.
With two published albums, namely "Unite" and "Today and Tomorrow," Mr. Kamanzi has made waves in the music industry. His track "Show Dem the Sign" received extensive airplay on local radio stations, solidifying his position as a notable artist. His performances have graced numerous stages across Africa and Europe, showcasing his versatility in musical genres, including Reggae, Afrobeat, Dancehall, and Pop Dancehall.
Beyond his musical accomplishments, Mr. Kamanzi's work with the Reggaenerators since 2021 has added a collaborative dimension to his career. His music carries a powerful message of upliftment, education, peace, and love, aligning with his personal motto: "Anywhere mi deh mi spread love."
As Free Style Friday prepares to host this illustrious artist, fans can anticipate an engaging and soulful session, blending Omusawo Tintah's charismatic hosting with the melodious tunes and inspiring story of Mr. Kamanzi. Tune in to Metro FM 90.8 this Friday for a musical experience that transcends borders and embraces the universal language of love through music.