Uganda Aids Commission Takes a Bold Step to Combat HIV Stigma with New Guidelines for People Living with Disabilities
The Uganda Aids Commission (UAC) has embarked on a significant endeavor aimed at combating HIV stigma and discrimination among people living with disabilities. To address this issue comprehensively, UAC has unveiled a translated version of the national policy guidelines designed to end the persistent stigma and discrimination surrounding HIV, which has long afflicted this marginalized demographic. The primary beneficiaries of this initiative are members of the deaf and blind communities, who have faced unique challenges due to the lack of accessible and critical information regarding HIV.
This groundbreaking move comes as a response to a pressing need within these communities. The associations representing the deaf and blind have been vocal about the significant information gap that has left many of their members vulnerable to HIV and compelled them into risky behaviors due to a lack of choice. The translated guidelines aim to bridge this information deficit and create a more inclusive and informed environment for individuals with disabilities.
The launch of these translated guidelines marks a pivotal moment in the fight against HIV-related stigma and discrimination in Uganda. Historically, people with disabilities, particularly those who are deaf and blind, have faced a double burden – not only dealing with their disabilities but also contending with the misinformation, discrimination, and marginalization associated with HIV. These individuals have been disproportionately affected by the negative consequences of HIV stigma, which includes a lack of access to healthcare, social exclusion, and a higher risk of contracting the virus.
Inspector General of Government Defends Decision to Withdraw Charges Against Former UNBS Director
UAC's decision to make these policy guidelines accessible to the deaf and blind communities underscores their commitment to leaving no one behind in the fight against HIV. It is a testament to their dedication to ensuring that individuals living with disabilities have the tools and knowledge they need to protect themselves from HIV and access appropriate healthcare services when necessary.
The translated guidelines not only offer information about HIV prevention but also provide valuable insights into living with HIV for those who are already affected. They cover a wide array of topics, including testing, treatment, disclosure, and sexual and reproductive health, with a focus on addressing the unique needs and challenges of individuals with disabilities.
Kyambogo University Grapples with Decision Over Professor Accused of Sexual Harassment
In addition to benefiting the deaf and blind communities directly, this initiative also aligns with broader global efforts to achieve the Sustainable Development Goals, particularly Goal 3, which aims to ensure good health and well-being for all. By focusing on reducing HIV stigma and ensuring that people living with disabilities are informed and protected, the UAC is contributing to a more inclusive and healthier society for all Ugandans.
The launch of these translated guidelines represents a significant step towards ending the stigmatization and discrimination that have persisted for far too long. It is a clear message that every Ugandan, regardless of their abilities, has the right to accurate information about HIV, access to healthcare, and protection from stigma and discrimination. It sets the stage for a more inclusive and compassionate approach to tackling the HIV epidemic in Uganda.
Prime Minister Robinah Nabbanja Applauds Gomba District's Thriving Agricultural Efforts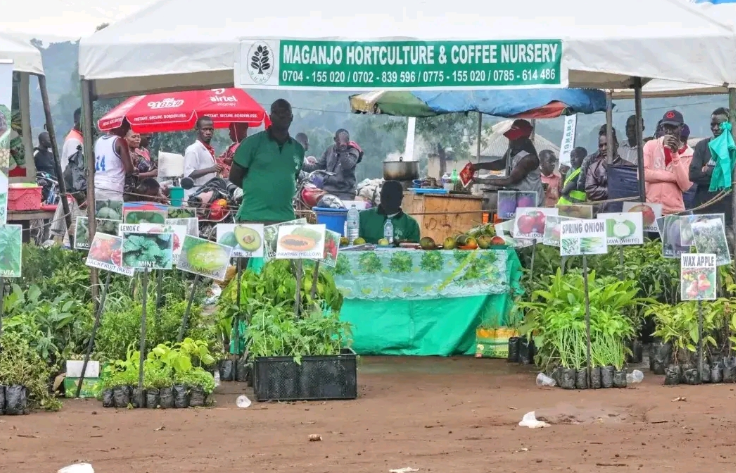 The Prime Minister of Uganda, The Right Honourable Robinah Nabbanja, expressed commendation for the residents of Gomba district, praising their active involvement in agriculture not just as a means of sustenance but as a pathway to economic prosperity.
During her address on Friday at the Gomba District Agricultural Expo organized by the Office of the Prime Minister, Nabbanja urged the community to diversify into high-value crops and adopt irrigation practices for year-round production. She emphasized that their commitment to agriculture is a crucial driver of economic growth.
The expo, attended by key figures in the agricultural sector, featured suppliers of agro-inputs and machinery, exemplary farmers, and specialists in agro-processing.
Addressing the necessity for improved electricity access, the Prime Minister reiterated the government's commitment to providing free power connections to homes. She encouraged residents to wire their houses, emphasizing that this initiative aims to elevate living standards and create economic opportunities.
Nabbanja also directed the District Health Officer to submit a letter requesting the elevation of Kanoni Health Center III to Health Center IV, aligning with the government's policy of establishing one Health Center IV in every constituency. She assured the people of Gomba West that steps would be taken to transform Kanoni Health Centre III into Health Center IV.
In a related context, Namayanja Rose Nsereko, the Deputy Secretary General of the National Resistance Movement (NRM), stressed the crucial role of community leaders in monitoring and following up on government projects. She emphasized the importance of leaders acquiring knowledge about these initiatives and effectively communicating with the public.
Namayanja underscored the significance of political participation, highlighting the NRM caucus as a key platform for strategic decision-making. She encouraged residents to support NRM flagbearers to ensure their voices are heard.
Sylvia Nayebale, the Gomba Woman MP, expressed gratitude for the government's efforts to improve electricity connectivity in the region. She acknowledged the positive impact of the reduced cost of the last-mile connection and urged for continued support and more connections to further enhance the lives of the residents.