Megan Thee Stallion Suggests Infidelity in New Single "Cobra"
Megan Thee Stallion has dropped a hint about her ex-boyfriend Pardison Fontaine's alleged infidelity in her latest single, "Cobra," released on Friday (November 3). In the track, the Houston rapper addresses the shocking discovery of her partner engaged in sexual activities with someone else in her own bed.
The lyrics go: "Pulled up, caught him cheatin', gettin' his dick sucked in the same spot I'm sleepin'/ Lord, give me a break, I don't know how much more of this shit I can take," reflecting her feelings on the situation.
Following the release of "Cobra," Pardison Fontaine disabled comments on his Instagram page after fans heard the song, suggesting that the track may have struck a chord with him.
"Cobra" marks Megan Thee Stallion's first official single of 2023, following her collaboration with Cardi B on "Bongos" and her contribution to "Out Alpha the Alpha" for "Dicks: The Musical."
Rumors of Megan Thee Stallion and Pardison Fontaine's breakup emerged in January 2022 amid reports of domestic violence. However, Fontaine vehemently denied any wrongdoing during that period.
In a previous Instagram Stories post, Fontaine addressed the rumors, stating, "Stop this cap nobody puttin hands on nobody …(At least not in that way ). Been seein the break up rumors and was lettin y'all imaginations run ..but y'all gettin too crazy ….ain't give n-ggas a story so they made one … we really been on it double time."
Despite the turbulence, the couple celebrated their two-year anniversary in October 2022, with Pardison Fontaine sharing a collection of candid photos and expressing his affection in the caption.
He wrote, "TWO YEARS AROUND THE SUN .. SEEM LIKE WE BEEN ON OUR OWN PLANET.. I love lovin you ..GOT 4 EVER 2 GO."
Megan Thee Stallion also commemorated the occasion by sharing a series of photos, captioned with "Yr 2 with U."
In May, Pardison Fontaine penned a heartfelt poem that seemed to be dedicated to Megan Thee Stallion, describing her as "a beautiful woman that I know" and affirming his unwavering support.
Omusawo Tintah To Host Renowned Swiss Artist Mr. Kamanzi on Metro fm 90.8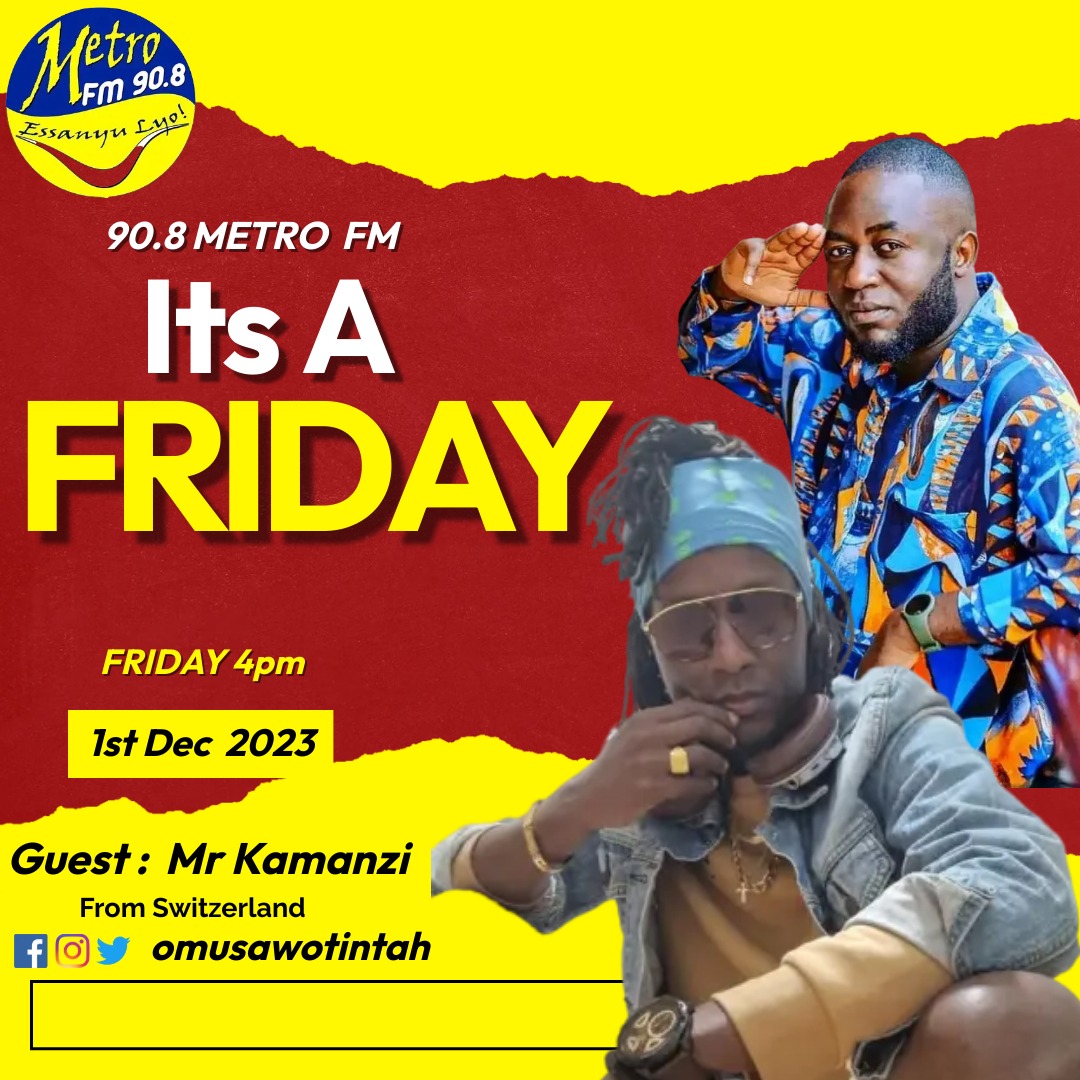 Metro FM 90.8's celebrated radio presenter and media activist, Omusawo Tintah, is gearing up to host the sensational Switzerland-based singer, Mr. Kamanzi, this Friday on his renowned radio show, Free Style Friday, running from 4 pm to 7 pm.
Omusawo Tintah's Free Style Friday has become a staple for music enthusiasts, featuring top-notch music and hosting internationally acclaimed artists. The show's popularity has soared, making it one of Uganda's most loved and trending radio programs.
Mr. Kamanzi, who is set to be the special guest on this week's episode, brings a wealth of musical talent and a captivating story to share. His journey in the world of music began at the age of 12, fueled by a deep passion for the art form. One of his childhood dreams was to perform on the grand stage, a dream that materialized in 1995 and marked the commencement of his music career.
Known for his distinctive vocal style, often referred to as "the husky voice of Africa," Mr. Kamanzi migrated to Switzerland a few years later. In 2008, he had the privilege of sharing the stage with T.o.k and Sean Paul in Dar es Salaam, Tanzania, a significant milestone in his musical journey.
With two published albums, namely "Unite" and "Today and Tomorrow," Mr. Kamanzi has made waves in the music industry. His track "Show Dem the Sign" received extensive airplay on local radio stations, solidifying his position as a notable artist. His performances have graced numerous stages across Africa and Europe, showcasing his versatility in musical genres, including Reggae, Afrobeat, Dancehall, and Pop Dancehall.
Beyond his musical accomplishments, Mr. Kamanzi's work with the Reggaenerators since 2021 has added a collaborative dimension to his career. His music carries a powerful message of upliftment, education, peace, and love, aligning with his personal motto: "Anywhere mi deh mi spread love."
As Free Style Friday prepares to host this illustrious artist, fans can anticipate an engaging and soulful session, blending Omusawo Tintah's charismatic hosting with the melodious tunes and inspiring story of Mr. Kamanzi. Tune in to Metro FM 90.8 this Friday for a musical experience that transcends borders and embraces the universal language of love through music.