UCC Donates Tablets to Enhance Connectivity in Bulambuli District
The Ugandan government, represented by the Uganda Communications Commission (UCC), has generously distributed free tablets (handset phones) to the residents of the Administration Cell in Bulambuli Town Council, Bulambuli district.
On Thursday, November 2, 2023, the tablets were presented to the community with the aim of fostering improved connectivity and encouraging digital utilization to advance agriculture, business, and education through IT innovation and creativity.
The official handover of these digital devices took place at the Bulambuli district headquarters.
Akimu Womazembe, one of the recipients of these tablets, expressed his gratitude to both the government and UCC for their generous contribution. He highlighted his intention to use the device for communication with his children and other family members, saying, "I am glad to have this gadget because I had no money to buy it. I will use it for communication and my children for studying."
Megan Thee Stallion Suggests Infidelity in New Single "Cobra"
Another beneficiary, James Wanyoto, emphasized how the tablets would facilitate his grandchildren in conducting research for their studies.
Amir Kamba, the Deputy Resident District Commissioner (RDC) of Bulambuli district, urged the recipients to utilize these gadgets for online marketing of their products.
The tablets were accompanied by a solar system designed to recharge them, ensuring sustained usage.
Meanwhile, Allan Tugume from UCC disclosed that the beneficiaries have received orientation on how to make effective use of these devices. He described this initiative as a pilot project initiated by the government of Uganda, with plans to expand it nationwide. Tugume emphasized the goal of ensuring that everyone is connected and informed about current affairs.
Prof. Mary Okwakol Steps Down as Chairperson of Uganda National Examinations Board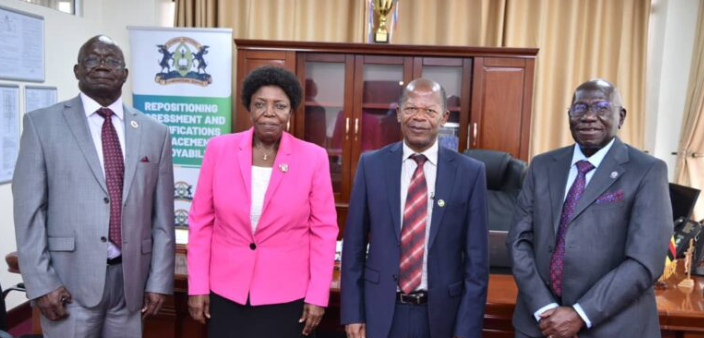 Prof. Mary Okwakol has concluded her tenure as the Chairperson of the Uganda National Examinations Board (UNEB), a position she held since 2014.
The formal handover ceremony took place, with Prof. Okwakol passing the reins to Prof. Celestino Obua, the Vice Chancellor of Mbarara University of Science and Technology. The Minister of State for Higher Education, Hon. John Chrysestom Muyingo, graced the occasion to witness the transition.
Prof. Obua's appointment was made by the Minister of Education and Sports, Hon. Janet Kataha Museveni, on October 12, 2023.
In a statement released by UNEB on November 3, 2023, the Examinations body expressed its appreciation for Prof. Okwakol, who is also recognized as the founding Vice Chancellor of Busitema University, one of Uganda's nine public universities.
Dan Odongo, the UNEB Executive Director, bid a fond farewell to Prof. Okwakol and acknowledged her service, saying, "We give thanks and praise to the Almighty God for the peaceful years that Professor Mary Okwakol has served as the Chairperson. I say 'peaceful' because she was appointed and took over at a time when UNEB had gone through nearly two turbulent years in its governance."
Odongo further lauded Prof. Okwakol's leadership, citing her adherence to the principles of good governance. He emphasized that she avoided becoming overly involved in the daily management of the institution, setting a positive example.
Prof. Okwakol assumed the role in 2014, succeeding Fagil Mandy, who had resigned due to President Museveni's decision to extend the contract of the then UNEB Executive Director, Matthew Bukenya.