Janet Jackson and Britney Spears Allegedly Bond Over Shared Experiences with Justin Timberlake
Regrettably for Justin Timberlake, his history with female pop stars has drawn scrutiny and criticism, casting a shadow over his public image. Currently, he is facing a barrage of backlash for allegations of infidelity during his relationship with Britney Spears. In addition, the singer has accused the *NSYNC member of pressuring her to undergo an abortion for selfish reasons and ending their relationship via a text message. Furthermore, his infamous 2004 Super Bowl Halftime Show performance with Janet Jackson, during which he exposed her breast to millions of viewers, inflicted lasting damage on her career.
Adding another layer to the narrative, sources now suggest that Britney Spears and Janet Jackson have bonded over their shared experiences involving Justin Timberlake, as reported by Daily Mail. An anonymous insider claimed, "Both felt he had a lot to gain by tearing them both down." It is revealed that Janet and Britney continue to offer each other support and "bond" over these challenging situations. "Janet has reached out to offer her support and ­encouragement," the insider added.
According to the alleged source, "Britney was appalled by the way Janet Jackson was treated during the Super Bowl." She felt that both she and Janet were targeted by the same public relations machinery that had vilified her. The two artists had private conversations around that time, which have recently resumed. Their shared experiences have brought them closer, with Janet expressing her solidarity and encouragement to Britney.
In the midst of the mounting backlash, Justin Timberlake has disabled comments on his Instagram and embarked on a family trip to Cabo San Lucas. Previously, after a documentary on Britney Spears in 2021, he expressed regret for his past actions. He stated, "I am deeply sorry for the times in my life where my actions contributed to the problem, where I spoke out of turn or did not speak up for what was right. I specifically want to apologize to Britney Spears and Janet Jackson, both individually, because I care for and respect these women, and I know that I failed." Stay tuned for further news and updates on Janet Jackson, Britney Spears, and Justin Timberlake
Omusawo Tintah To Host Renowned Swiss Artist Mr. Kamanzi on Metro fm 90.8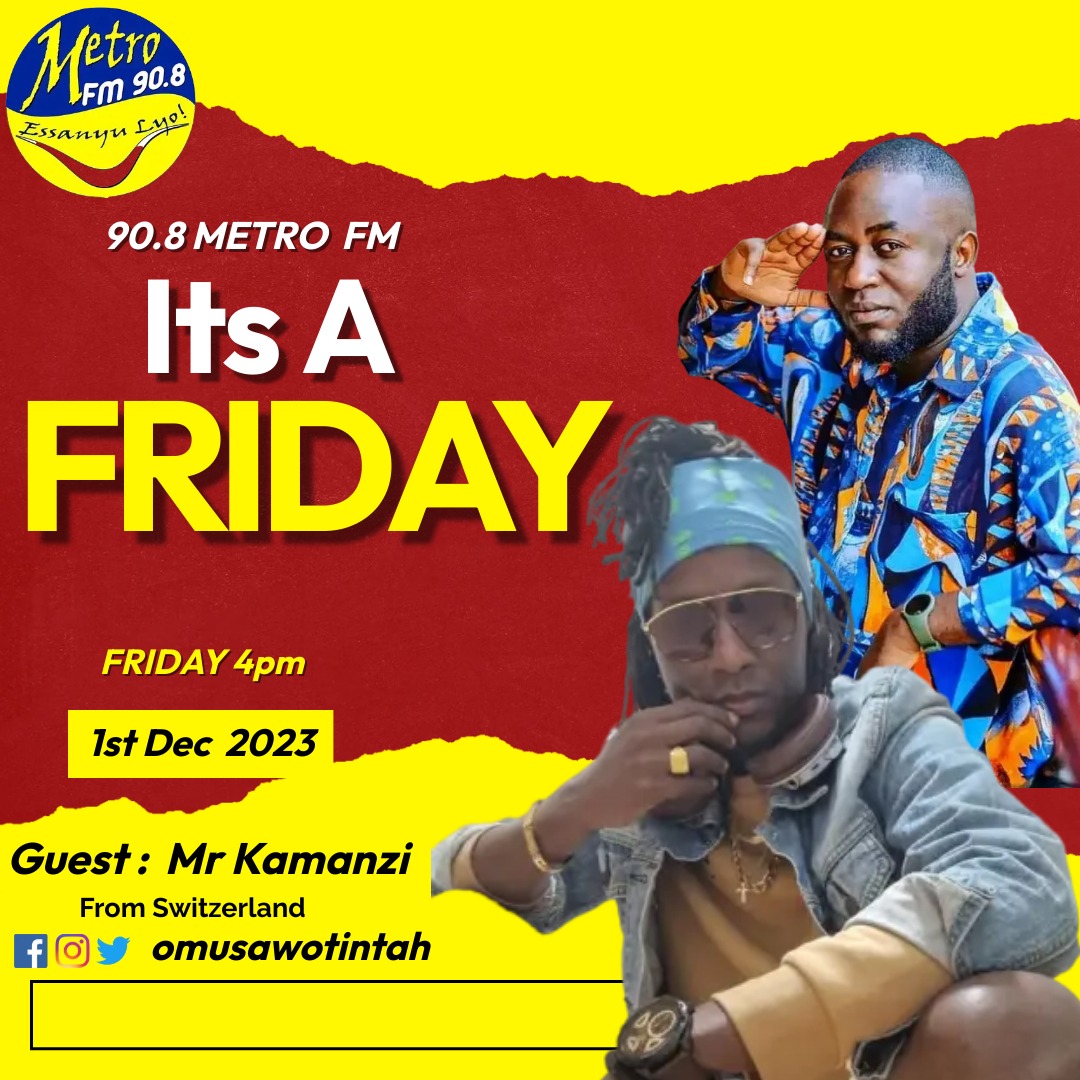 Metro FM 90.8's celebrated radio presenter and media activist, Omusawo Tintah, is gearing up to host the sensational Switzerland-based singer, Mr. Kamanzi, this Friday on his renowned radio show, Free Style Friday, running from 4 pm to 7 pm.
Omusawo Tintah's Free Style Friday has become a staple for music enthusiasts, featuring top-notch music and hosting internationally acclaimed artists. The show's popularity has soared, making it one of Uganda's most loved and trending radio programs.
Mr. Kamanzi, who is set to be the special guest on this week's episode, brings a wealth of musical talent and a captivating story to share. His journey in the world of music began at the age of 12, fueled by a deep passion for the art form. One of his childhood dreams was to perform on the grand stage, a dream that materialized in 1995 and marked the commencement of his music career.
Known for his distinctive vocal style, often referred to as "the husky voice of Africa," Mr. Kamanzi migrated to Switzerland a few years later. In 2008, he had the privilege of sharing the stage with T.o.k and Sean Paul in Dar es Salaam, Tanzania, a significant milestone in his musical journey.
With two published albums, namely "Unite" and "Today and Tomorrow," Mr. Kamanzi has made waves in the music industry. His track "Show Dem the Sign" received extensive airplay on local radio stations, solidifying his position as a notable artist. His performances have graced numerous stages across Africa and Europe, showcasing his versatility in musical genres, including Reggae, Afrobeat, Dancehall, and Pop Dancehall.
Beyond his musical accomplishments, Mr. Kamanzi's work with the Reggaenerators since 2021 has added a collaborative dimension to his career. His music carries a powerful message of upliftment, education, peace, and love, aligning with his personal motto: "Anywhere mi deh mi spread love."
As Free Style Friday prepares to host this illustrious artist, fans can anticipate an engaging and soulful session, blending Omusawo Tintah's charismatic hosting with the melodious tunes and inspiring story of Mr. Kamanzi. Tune in to Metro FM 90.8 this Friday for a musical experience that transcends borders and embraces the universal language of love through music.