Mariah Carey: A Holiday Icon Fronting Victoria's Secret 2023 Collection
Victoria's Secret struck gold by enlisting Mariah Carey, affectionately known as the "Queen of Christmas," to showcase their 2023 holiday collection. The collaboration offers a range of pieces, from festive-themed wear like the candy cane corset top to versatile looks suitable for any time of the year but particularly resonant during the holiday season. Styled by Gabriella Karefa-Johnson and captured by Ethan James Green, the promotional video presented an enticing and alluring glimpse of their offerings.
Expressing her enthusiasm for the partnership in a recent Vogue interview, Mariah Carey shared, "It was so fun seeing the new collection and their creative vision come to life. From the seasonal colors to the vibrant glam, I definitely felt the holiday spirit all around me. I like that the different pieces I wore have different vibes to them. Some are cozy and festive, and others are more sexy and playful. One of my favorite looks was the gold set with these beautiful, intricate embellishments. It really felt like holiday glamour when I put it on."
This collaboration further exemplifies Carey's influence not just in the realm of lingerie but also as an artist who inspires others. Rapper Latto recently reflected on her collaboration with Mariah Carey on the "Big Energy" remix, expressing how the experience transformed her perspective on the possibilities within the music industry. "I feel like anything is possible at this point," Latto remarked, emphasizing the impact of working alongside Carey.
Amidst all these engagements, Mariah Carey remains an inspiration and a muse, evident from the continued admiration expressed by her former partner, Nick Cannon. With her undeniable influence, Carey is anticipated to dominate this holiday season, seamlessly crossing into various spaces. Her presence in the festive realm remains an area of curiosity, sparking interest in what more she might bring to the holiday season.
Stay tuned for the latest news and updates on Mariah Carey's ventures, showcasing her enduring impact and evolving influence.
Omusawo Tintah To Host Renowned Swiss Artist Mr. Kamanzi on Metro fm 90.8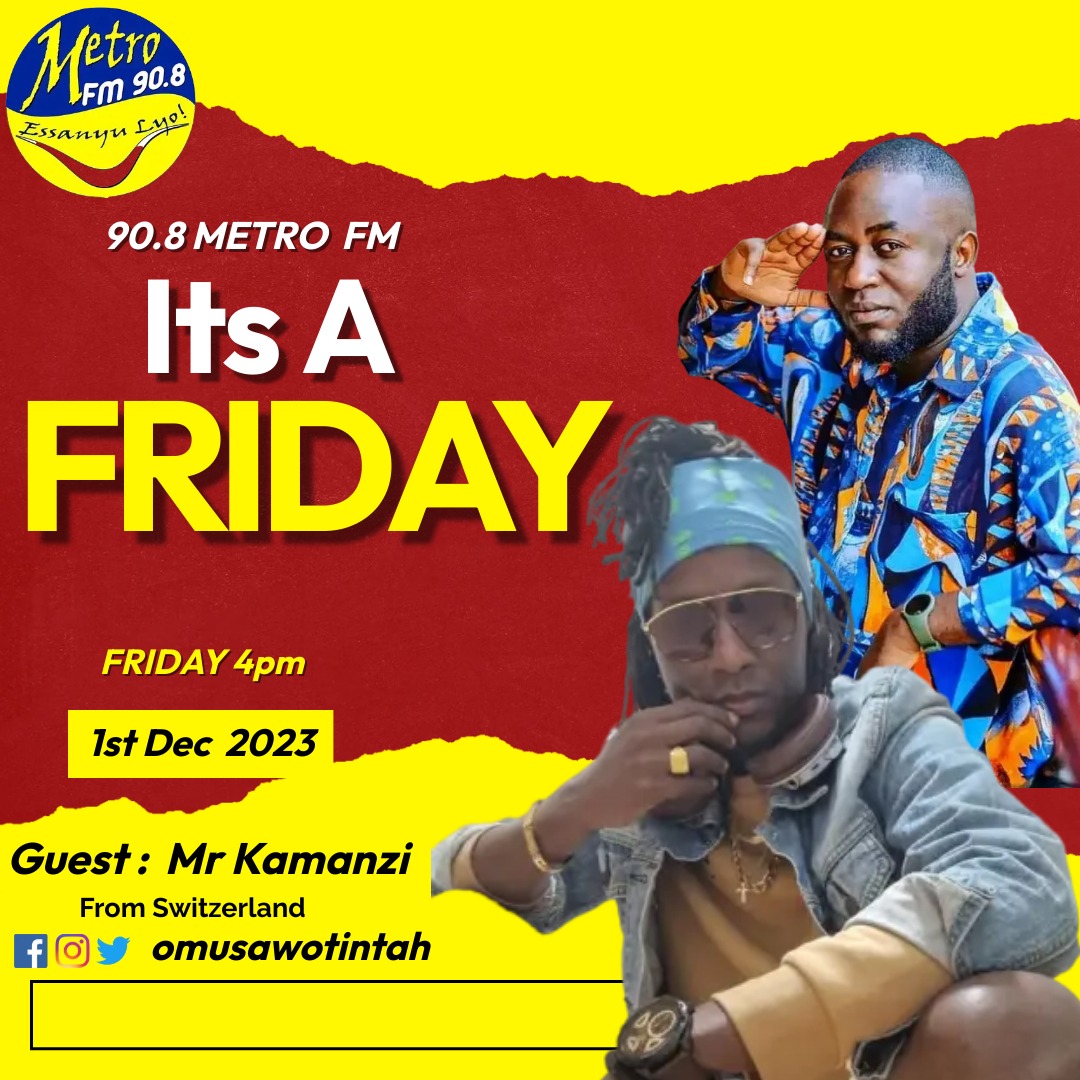 Metro FM 90.8's celebrated radio presenter and media activist, Omusawo Tintah, is gearing up to host the sensational Switzerland-based singer, Mr. Kamanzi, this Friday on his renowned radio show, Free Style Friday, running from 4 pm to 7 pm.
Omusawo Tintah's Free Style Friday has become a staple for music enthusiasts, featuring top-notch music and hosting internationally acclaimed artists. The show's popularity has soared, making it one of Uganda's most loved and trending radio programs.
Mr. Kamanzi, who is set to be the special guest on this week's episode, brings a wealth of musical talent and a captivating story to share. His journey in the world of music began at the age of 12, fueled by a deep passion for the art form. One of his childhood dreams was to perform on the grand stage, a dream that materialized in 1995 and marked the commencement of his music career.
Known for his distinctive vocal style, often referred to as "the husky voice of Africa," Mr. Kamanzi migrated to Switzerland a few years later. In 2008, he had the privilege of sharing the stage with T.o.k and Sean Paul in Dar es Salaam, Tanzania, a significant milestone in his musical journey.
With two published albums, namely "Unite" and "Today and Tomorrow," Mr. Kamanzi has made waves in the music industry. His track "Show Dem the Sign" received extensive airplay on local radio stations, solidifying his position as a notable artist. His performances have graced numerous stages across Africa and Europe, showcasing his versatility in musical genres, including Reggae, Afrobeat, Dancehall, and Pop Dancehall.
Beyond his musical accomplishments, Mr. Kamanzi's work with the Reggaenerators since 2021 has added a collaborative dimension to his career. His music carries a powerful message of upliftment, education, peace, and love, aligning with his personal motto: "Anywhere mi deh mi spread love."
As Free Style Friday prepares to host this illustrious artist, fans can anticipate an engaging and soulful session, blending Omusawo Tintah's charismatic hosting with the melodious tunes and inspiring story of Mr. Kamanzi. Tune in to Metro FM 90.8 this Friday for a musical experience that transcends borders and embraces the universal language of love through music.