Nicki Minaj Teases Exciting Collaboration for Upcoming Album "Pink Friday 2"
Nicki Minaj's highly-anticipated new album, "Pink Friday 2," is scheduled for release on December 8, and the acclaimed artist's enthusiasm continues to build. She has expressed her belief that the forthcoming LP represents some of her best work and can't wait for her fans to experience it. Recently, she took to Twitter to once again tease the project, dropping hints about an exciting collaboration that will feature on the album.
Beginning with an exclamation, Nicki wrote, "Omg, This is not a drill. I repeat. This is not a phkng drill! Guess who's vocals just came in for #PinkFriday2 y'all?!?!!!!!!!!!!!!!!!! Y'all r going to GAG CITY WTFFFFFFFFFFFFFFFFFFFFSFDF." While she didn't offer further details about the collaborator, fans are abuzz with speculation in the comments.
In the midst of Nicki's excitement, Sexyy Red has been showing continuous support for the upcoming album, sharing several of the rapper's recent tweets. She even reposted one of Nicki's posts about a previously discarded track that fans had been eagerly anticipating, seemingly expressing her interest in giving it a try. In her post, Nicki mentioned, "I can't do it, but if someone else would like the song, it would be dope! It doesn't match where I'm @ mentally or sonically, but the song is hard AF."
Sexyy Red responded with a simple side-eye emoji, hinting that she might want to take a shot at the track. Numerous fans are advocating for her to be included on the album, which isn't out of the realm of possibility, considering their history of collaboration. Earlier this year, Nicki Minaj featured on a remix of Sexyy Red's iconic track, "Pound Town," which swiftly became a fan favorite.
Are you eagerly anticipating Nicki Minaj's upcoming album, "Pink Friday 2"? How do you feel about Sexyy Red expressing interest in Nicki's unreleased track? Share your thoughts in the comments section below.
Omusawo Tintah To Host Renowned Swiss Artist Mr. Kamanzi on Metro fm 90.8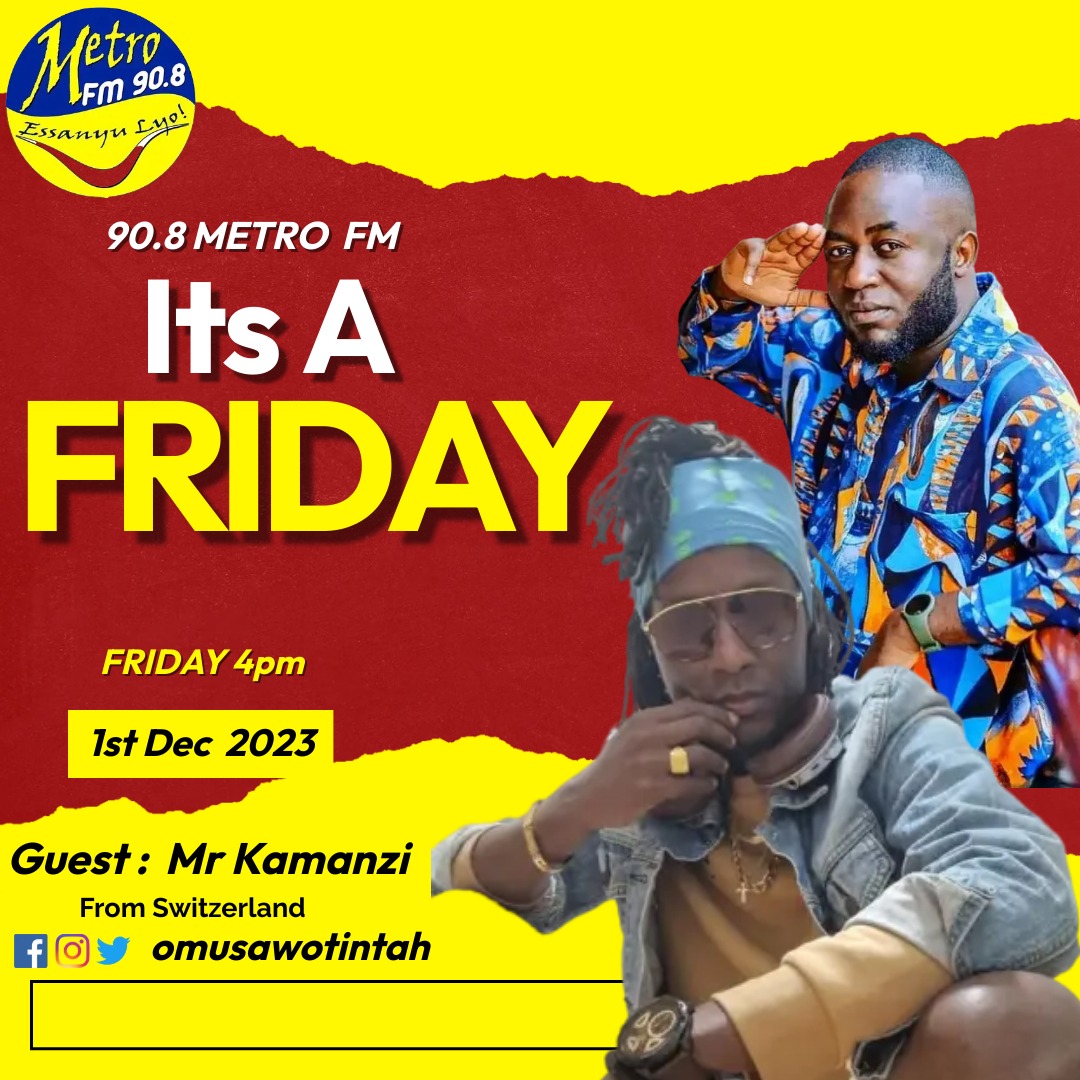 Metro FM 90.8's celebrated radio presenter and media activist, Omusawo Tintah, is gearing up to host the sensational Switzerland-based singer, Mr. Kamanzi, this Friday on his renowned radio show, Free Style Friday, running from 4 pm to 7 pm.
Omusawo Tintah's Free Style Friday has become a staple for music enthusiasts, featuring top-notch music and hosting internationally acclaimed artists. The show's popularity has soared, making it one of Uganda's most loved and trending radio programs.
Mr. Kamanzi, who is set to be the special guest on this week's episode, brings a wealth of musical talent and a captivating story to share. His journey in the world of music began at the age of 12, fueled by a deep passion for the art form. One of his childhood dreams was to perform on the grand stage, a dream that materialized in 1995 and marked the commencement of his music career.
Known for his distinctive vocal style, often referred to as "the husky voice of Africa," Mr. Kamanzi migrated to Switzerland a few years later. In 2008, he had the privilege of sharing the stage with T.o.k and Sean Paul in Dar es Salaam, Tanzania, a significant milestone in his musical journey.
With two published albums, namely "Unite" and "Today and Tomorrow," Mr. Kamanzi has made waves in the music industry. His track "Show Dem the Sign" received extensive airplay on local radio stations, solidifying his position as a notable artist. His performances have graced numerous stages across Africa and Europe, showcasing his versatility in musical genres, including Reggae, Afrobeat, Dancehall, and Pop Dancehall.
Beyond his musical accomplishments, Mr. Kamanzi's work with the Reggaenerators since 2021 has added a collaborative dimension to his career. His music carries a powerful message of upliftment, education, peace, and love, aligning with his personal motto: "Anywhere mi deh mi spread love."
As Free Style Friday prepares to host this illustrious artist, fans can anticipate an engaging and soulful session, blending Omusawo Tintah's charismatic hosting with the melodious tunes and inspiring story of Mr. Kamanzi. Tune in to Metro FM 90.8 this Friday for a musical experience that transcends borders and embraces the universal language of love through music.