Kylie Jenner's Clothing Line KHY Exposed as a Flop in Try-On Haul: Quality Issues and Ill-Fitting Pieces
Kylie Jenner, a prominent member of the Kardashian-Jenner clan, has been in the spotlight for her fashion ventures, but her latest clothing line, KHY, has come under scrutiny and harsh criticism. In a recent try-on haul video posted on YouTube, a content creator known as "My Little T" exposed the quality issues and lackluster designs of the KHY collection, labeling it as a flop.
The anticipation surrounding the KHY clothing line was palpable, with many fashion enthusiasts eagerly awaiting its release. However, as the products started making their way into the hands of consumers, it became clear that there were serious concerns about the quality and fit of the pieces.
The KHY collection was marketed as "affordable luxury for under $200," but it seems that Kylie Jenner and her team missed the mark. The try-on haul video, shared on YouTube, revealed that the quality of the clothing left much to be desired. The content creator pointed out that the garments felt heavy and thick, likely due to low-quality materials, and gave off a distinct plastic smell.
One of the most significant disappointments was the ill-fitting nature of the clothing. Pants appeared baggy and oversized, while the coats and other pieces did not deliver the promised affordable luxury experience. The clothing items seemed to be poorly tailored and did not flatter the wearers.
The KHY collection has been criticized for its resemblance to fast fashion brands like Shein and Boohoo, which offer similar styles at a fraction of the price. It's evident that the affordable luxury promise fell short of expectations, leaving consumers feeling misled.
While Kylie Jenner is known for her ability to create excitement and generate buzz, it appears that the KHY clothing line failed to live up to the hype. The content creator in the YouTube video suggested that Kylie may have taken shortcuts in design and production, opting for existing patterns and materials to save costs.
The KHY collection has sparked outrage on social media platforms like TikTok, where influencers and consumers are sharing their disappointment and warning others about the poor quality and fit. It remains to be seen whether the Kardashian-Jenner team will address the criticism and make improvements to the collection.
In the world of fashion, quality and design play a significant role in a brand's reputation. Kylie Jenner's KHY line, once touted as a new addition to affordable luxury fashion, now faces scrutiny and skepticism. As consumers continue to voice their concerns, the future of KHY hangs in the balance, leaving many to wonder whether it can recover from this harsh exposure of its quality issues.
Omusawo Tintah To Host Renowned Swiss Artist Mr. Kamanzi on Metro fm 90.8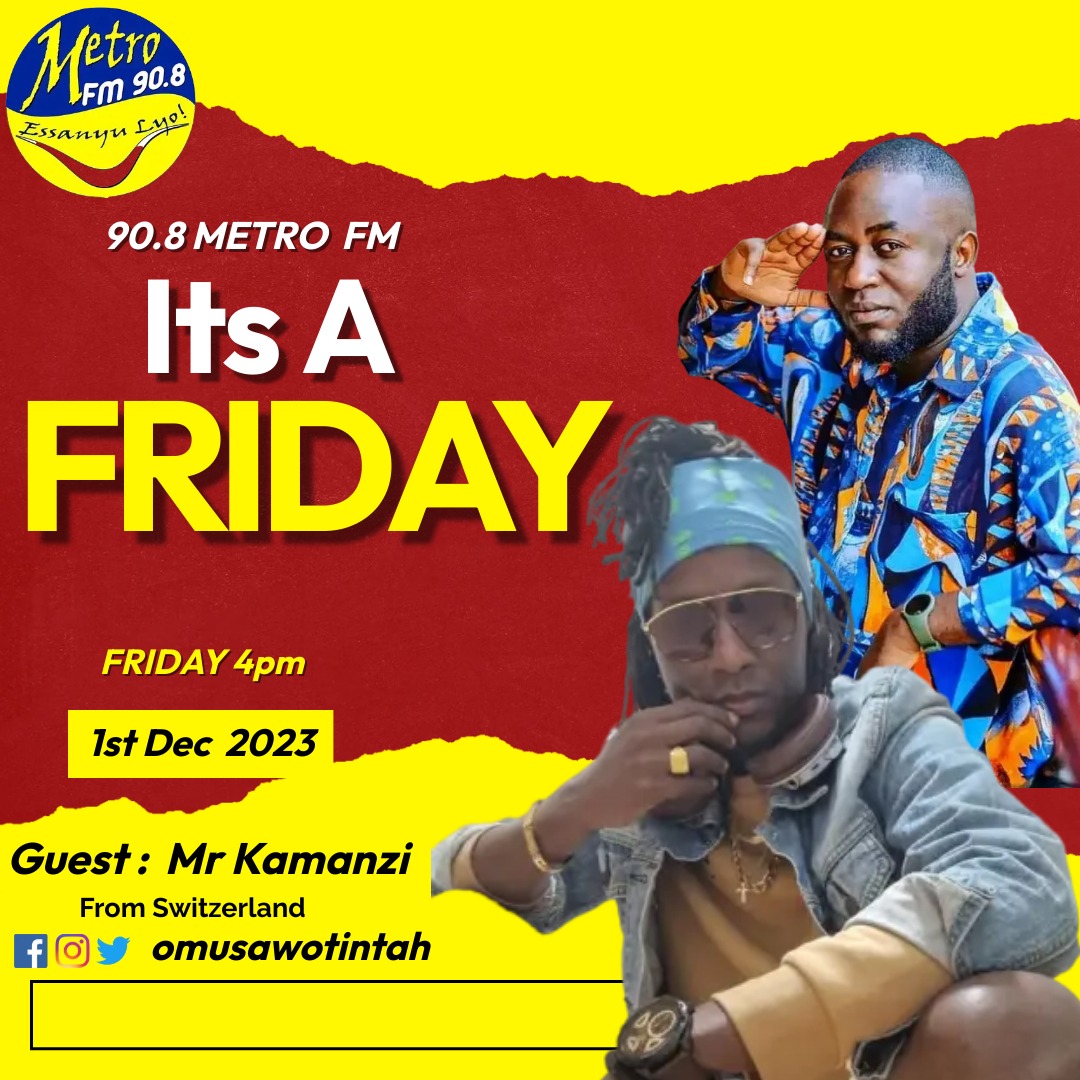 Metro FM 90.8's celebrated radio presenter and media activist, Omusawo Tintah, is gearing up to host the sensational Switzerland-based singer, Mr. Kamanzi, this Friday on his renowned radio show, Free Style Friday, running from 4 pm to 7 pm.
Omusawo Tintah's Free Style Friday has become a staple for music enthusiasts, featuring top-notch music and hosting internationally acclaimed artists. The show's popularity has soared, making it one of Uganda's most loved and trending radio programs.
Mr. Kamanzi, who is set to be the special guest on this week's episode, brings a wealth of musical talent and a captivating story to share. His journey in the world of music began at the age of 12, fueled by a deep passion for the art form. One of his childhood dreams was to perform on the grand stage, a dream that materialized in 1995 and marked the commencement of his music career.
Known for his distinctive vocal style, often referred to as "the husky voice of Africa," Mr. Kamanzi migrated to Switzerland a few years later. In 2008, he had the privilege of sharing the stage with T.o.k and Sean Paul in Dar es Salaam, Tanzania, a significant milestone in his musical journey.
With two published albums, namely "Unite" and "Today and Tomorrow," Mr. Kamanzi has made waves in the music industry. His track "Show Dem the Sign" received extensive airplay on local radio stations, solidifying his position as a notable artist. His performances have graced numerous stages across Africa and Europe, showcasing his versatility in musical genres, including Reggae, Afrobeat, Dancehall, and Pop Dancehall.
Beyond his musical accomplishments, Mr. Kamanzi's work with the Reggaenerators since 2021 has added a collaborative dimension to his career. His music carries a powerful message of upliftment, education, peace, and love, aligning with his personal motto: "Anywhere mi deh mi spread love."
As Free Style Friday prepares to host this illustrious artist, fans can anticipate an engaging and soulful session, blending Omusawo Tintah's charismatic hosting with the melodious tunes and inspiring story of Mr. Kamanzi. Tune in to Metro FM 90.8 this Friday for a musical experience that transcends borders and embraces the universal language of love through music.