Sonja Norwood Clarifies Hospitalization Incident After IV Treatment
Sonja Norwood, the mother of Brandy and Ray J, has addressed the recent reports of her hospitalization following complications from an in-home IV treatment. Contrary to recent headlines, she reassured her loved ones and the public that she is in good health.
TMZ had reported her hospitalization on Monday (November 6), stating that Sonja experienced "sudden rapid breathing" while receiving an IV of vitamins C and B, calcium, and magnesium. Ray J, concerned for his mother, called an ambulance, and she was later cleared by medical professionals.
Taking to her Facebook account the following day, Sonja clarified the incident, emphasizing that it had occurred weeks prior, and she is perfectly fine.
Sonja stated, "I don't usually address stories about myself, but I was quite surprised to wake up to a call from a long-time friend/publicist asking, 'Sonja, are you in the hospital, and are you okay?' 'What? Where is that coming from?' I asked. There was a TMZ story that I was not aware of. She sent the link, and when I looked at it, I frowned and said, 'That was weeks ago.' And, 'They could have gotten my age right.'"
She continued, "Then the floodgates of concerns just took over my phone. I had no idea the responses would be so huge to the point I couldn't address them one by one, so I felt the need to say something publicly. Thank God I am not in the hospital. I'm doing great! I did have a negative reaction to an IV VITAMIN Therapy WEEKS AGO! It was not a big deal."
Sonja also shared that she had sought medical attention, and her medical reports received a clean bill of health. She expressed her gratitude for the concern from her friends and followers and concluded by asking them not to be upset with TMZ.
Kanye West Outsmarts Adidas with Pastelle Launch: Fashion Industry Ripples
The Norwood family has a history of being close-knit, with Ray J showing his appreciation for his sister Brandy by getting a portrait of her tattooed on his leg last summer as a thank-you for her support in his music career.
Despite Brandy's initial hesitance about the tattoo, Ray J expressed his love for his sister and gratitude for her assistance in his career. Brandy left loving comments on Ray J's Instagram post of the tattoo, showing her support.
Ray J stands by his decision, emphasizing that "love kills hate" and expressing his affection for his sister. He mentioned that the tattoo is growing on him and that it symbolizes his love and appreciation for Brandy's support in his life and career.
Omusawo Tintah To Host Renowned Swiss Artist Mr. Kamanzi on Metro fm 90.8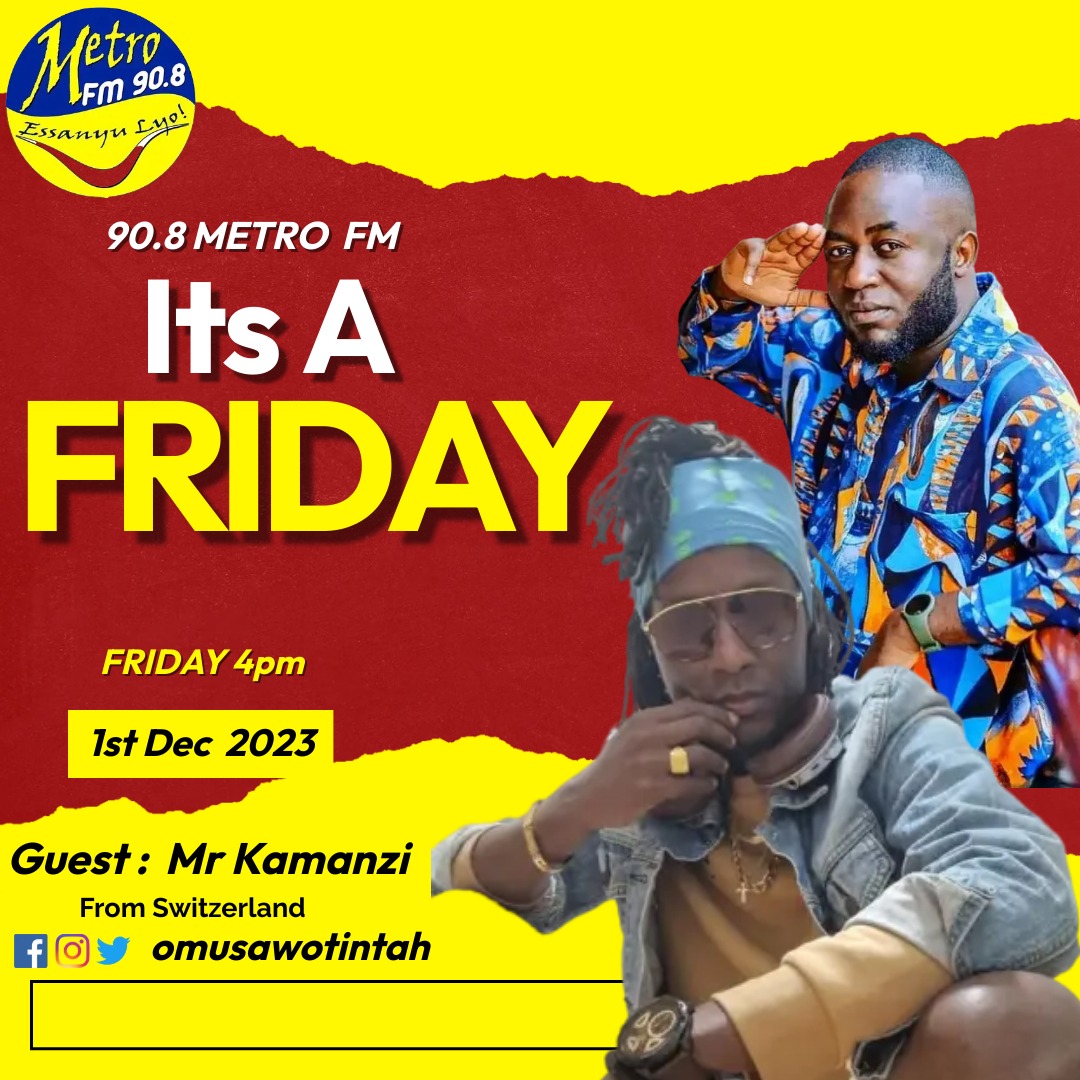 Metro FM 90.8's celebrated radio presenter and media activist, Omusawo Tintah, is gearing up to host the sensational Switzerland-based singer, Mr. Kamanzi, this Friday on his renowned radio show, Free Style Friday, running from 4 pm to 7 pm.
Omusawo Tintah's Free Style Friday has become a staple for music enthusiasts, featuring top-notch music and hosting internationally acclaimed artists. The show's popularity has soared, making it one of Uganda's most loved and trending radio programs.
Mr. Kamanzi, who is set to be the special guest on this week's episode, brings a wealth of musical talent and a captivating story to share. His journey in the world of music began at the age of 12, fueled by a deep passion for the art form. One of his childhood dreams was to perform on the grand stage, a dream that materialized in 1995 and marked the commencement of his music career.
Known for his distinctive vocal style, often referred to as "the husky voice of Africa," Mr. Kamanzi migrated to Switzerland a few years later. In 2008, he had the privilege of sharing the stage with T.o.k and Sean Paul in Dar es Salaam, Tanzania, a significant milestone in his musical journey.
With two published albums, namely "Unite" and "Today and Tomorrow," Mr. Kamanzi has made waves in the music industry. His track "Show Dem the Sign" received extensive airplay on local radio stations, solidifying his position as a notable artist. His performances have graced numerous stages across Africa and Europe, showcasing his versatility in musical genres, including Reggae, Afrobeat, Dancehall, and Pop Dancehall.
Beyond his musical accomplishments, Mr. Kamanzi's work with the Reggaenerators since 2021 has added a collaborative dimension to his career. His music carries a powerful message of upliftment, education, peace, and love, aligning with his personal motto: "Anywhere mi deh mi spread love."
As Free Style Friday prepares to host this illustrious artist, fans can anticipate an engaging and soulful session, blending Omusawo Tintah's charismatic hosting with the melodious tunes and inspiring story of Mr. Kamanzi. Tune in to Metro FM 90.8 this Friday for a musical experience that transcends borders and embraces the universal language of love through music.